Ecuador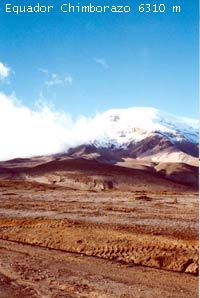 Climbing/Trekking on the higest volcanos in the world.
Equador is a fantastic and rich of colours country. There are big differences within the country of - climate, altitude and population. It is a great chance to learn about Latin America with its volcanos and its tropical forests.
We become acclimatised in Quito, doing some small ascents similar to those around Mont Blanc. We can then go to Cotopaxi (5900 mt.) and Chimborazo (6310 mt) refuges. The wide glaciers cover these two high mountains and hide their volcanic nature. The climb is long but neither difficult nor boring. It provides an opportunity to climb at altitude higher than that in available in Europe and think towards new similar adventures - maybe in Himalaya.

Technical card:
Period: From December to March
Difficulty: Easy climb like those of Mont Blanc
Duration: From 13 to 18 days.
Participants: from 2 to 6 or more if with experienced mountaineers.

If requested detailed programs can be provided.