Namibia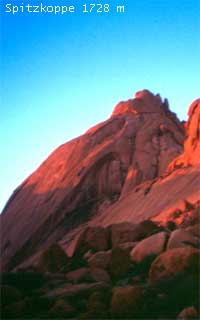 Africa Spitskoppe 1728 mt.
Spitzkoppe is a wonderful red granite monolith of incredibly beauty. It is located in a country with innumerable wonderful things: natural parks, the high dunes of Sussusvlei, the Atlantic's stormy coast, the great organization and strudels coming as heritage from the days of German colonisation.
It is a fantastic experience allowing us to climb in a park of rare beauty in relative comfort.

The climb of Spitzkoppe's shouldn't be underestimated. Although it isn't difficult (max 5+), it is a bit complicated, with several absailing and it can take from 8 to 10 hours and be a tiring day.

Technical card:
Period: May/June
Difficulty: grade to 5, many pitches route with from 4° to 7c
Duration: it can vary from one week to 10 days.
Participants: 2 or 4.